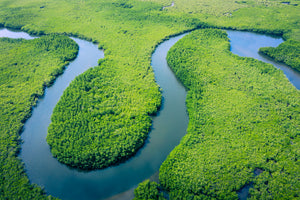 For Edeniste, sustainability goes beyond packaging. 
Using the highest quality essences and ingredients from natural and renewable resources, Edeniste fragrances contain up to 98% of ingredients of natural origin, including vegetal beet alcohol. Edeniste gives priority to organic ingredients, protecting biodiversity, and ethical ingredients supporting local communities all over the world. The choice was not to have 100% natural fragrances - because 'natural' isn't always best for the planet. There is a carbon footprint to sourcing natural ingredients from the other side of the world and the extraction of natural materials is often accompanied by soil erosion and deforestation, so synthetic alternatives can be a more ecological solution.
Edeniste is manufactured in France and its outer boxes, inner cartons and other materials, including bags, are made of FSC certified paper from well-managed forests, and 40% recycled paper. The glass bottles are recyclable. Water, CO2, and waste consumption are optimized to minimize our impact on the environment, targeting a net zero footprint. 
Edeniste is also proud to support 1% For The Planet.