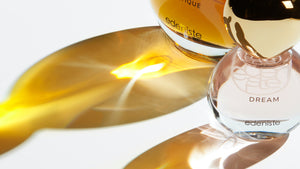 Find the perfect balance to improve your overall wellness
How does Edeniste work? A 2-step olfactive process, a new way to select and wear active wellbeing fragrances.
Step 1: Scenting
Spray on your EAU DE PARFUM ACTIVE or EAU DE PARFUM INTENSE ACTIVE
Choose your olfactory personality (your foundation) from one of the seven unigender active Eau de Parfums, containing a patented olfactive accord "destress"proven to have a regulating impact on mood. Edeniste Eau de Parfum are the foundation to be combined with the Lifeboost®: they have been designed to compliment each other and in order for the Lifeboost® to deliver the proven emotional benefits.
The benefits:
Regulate your stress level
Regulate your cortisol level
Choose your outer self
Step 2: Boosting
Choose your active Lifeboost®to enhance your mood. Six actively charged, scientifically validated mood-boosting essences that can be customized to suit individual needs, offering infinite combinations to enhance your mood and guide your internal state. The Lifeboost® is for your inner self, it is all about your personal moment. Customize a different ritual for each
The benefits:
Change your mood
Activate positive emotions
Be mindful
Boost your inner self
The beauty of Edeniste Lifeboost® is that we've done all the thinking for you. Don't worry about the ingredients or notes, simply let your emotional cravings guide you. Select the mood or moods that you feel are regularly missing from your daily landscape, which you'd like to activate into a positive physiological and physical manifestation.